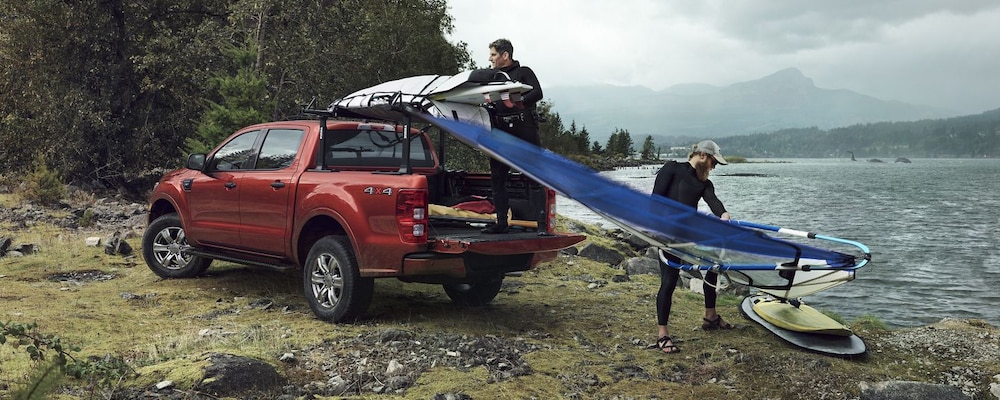 Whether you're heading to the construction site in Kankakee or setting out on off-road adventures, the 2019 Ford Ranger has you covered, especially when you consider the Ford Ranger bed size. With Ford Ranger bed dimensions ranging from 5 feet long to 6 feet long depending on which cab size you choose, you'll have plenty of space to store the gear you need to go from work to play. And given the Ranger's Ford midsize truck status, it's easy enough to maneuver around the Chicago area. Get to know the bed dimensions of the new Ford Ranger with Terry's Ford below!
2019 Ford Ranger Bed Dimensions
The Ford Ranger bed dimensions ultimately depend on whether you choose the SuperCab or SuperCrew® cab size. Each has their own individual compromises. For example, the SuperCab promises an extra foot of bed space but accommodates fewer passengers. Meanwhile, the SuperCrew® offers more space for passengers inside, but loses a foot of bed space as a result. Bed dimensions are as follows:
6-foot SuperCab: Bed dimensions of 72.8 inches x 44.8 inches x 20.8 inches create a total bed volume of 51.8 cubic feet with the SuperCab setup.
5-foot SuperCrew®: Bed dimensions of 61.0 inches x 44.8 inches x 20.8 inches establish a total bed volume of 43.4 cubic feet. As previously mentioned, the Ranger makes up for the smaller bed size with more passenger space inside the SuperCrew® cab.
If you need a Ford midsize truck with a larger bed, then, you'll be better served by the SuperCab. As you decide between the two, keep in mind that the Terry's Ford Service Center is here to help if you need to modify your bed.
2019 Ford Ranger Interior
Again, the space inside the Ford Ranger depends on the cab you select for your Manteno drives. The SuperCab seats up to four people, while the SuperCrew® seats up to five people. A few additional interior specs for each cab include:
SuperCab:
39.8 inches front headroom
35.9 inches rear headroom
43.1 inches max front legroom
30.4 inches rear legroom
SuperCrew®:
39.8 inches front headroom
38.3 inches rear headroom
43.1 inches max front legroom
34.5 inches rear legroom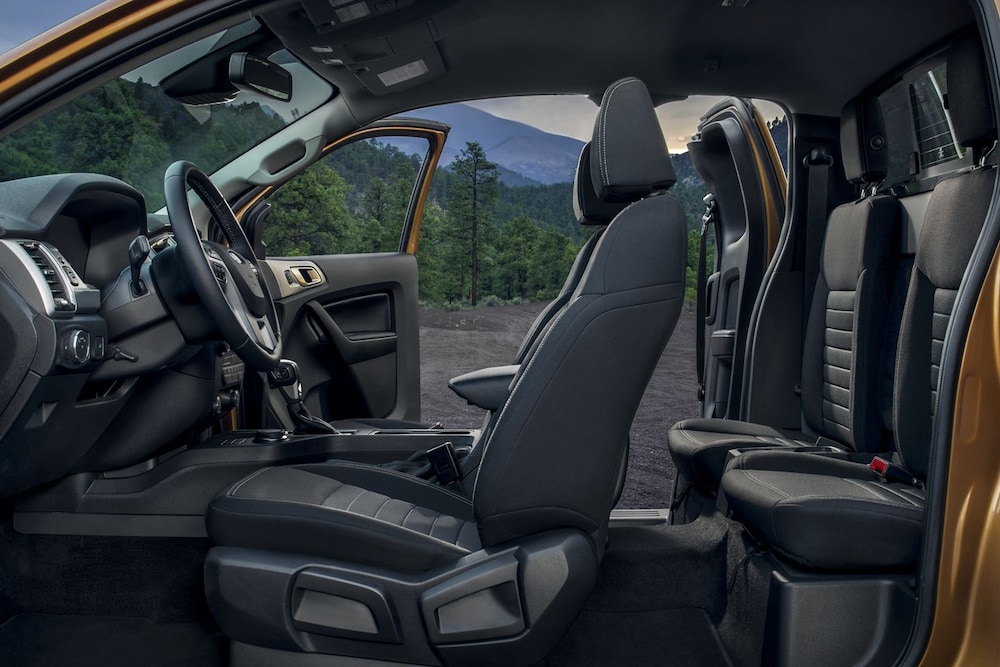 2019 Ford Ranger Amenities
No matter which of the Ford Ranger cabs you select, you can look forward to a well-appointed interior equipped with the latest technology. Here are some highlights:
Two front and one rear 12-Volt Powerpoints
2.3-inch Productivity Screen
Ford MyKey®
FordPass Connect™ with 4G LTE Wi-Fi hotspot
Applink®
Pre-Collision Assist with Automatic Emergency Braking
Discover the 2019 Ford Ranger at Terry's Ford!
Ready to check out the 2019 Ford Ranger bed dimensions and cab sizes in person? Then make your way from anywhere in the Chicago area to Terry's Ford for a test drive! Get in touch if you need more information before visiting. Our Ford professionals are always happy to help!